Like most areas across the country, the Twin Cities real estate market as drastically impacted by last decade's housing downturn and the ensuing Great Recession.  After peaking in 2005 and 2006, the median sales price of a home in the Twin Cities is finally back up to the pre-recessionary levels.  However, the new construction market is drastically different today than last decade.
Prior the recession, builders were constructing entry-level new homes priced under $250,000.  Although many of these homes were condo's or townhomes, builders delivered a number of starter homes that were either split-levels or two-story homes.   Nearly half of homes built prior the downturn were priced under $250,000; today that percentage is a fraction at about 15%.  Builders have been catering to the move-up and executive-level buyers for a variety of reasons, including:  increased labor and material costs, lack of choice lots available, increased regulation (i.e. platting lots, permit fees, etc.), increased infrastructure costs, etc.  As a result, builders are unable to deliver an affordable product unless lot sizes are compressed (i.e. increased density) and buyers choose more efficient floor plans.
The Mullins Group recently updated all the new construction trends in Hennepin County and found the median price of a new single-family home in Hennepin County is nearly $600,000 in 2016.  This trend is not sustainable as there are not enough high-income householders to continue at this price point.  As a result, some builders are again focusing on townhome product to offer a more economically priced home with features and amenities today's buyers seek in a more affordable price-point.  The Mullins group projects builders in 2017 will being to diversify there price points to remain competitive.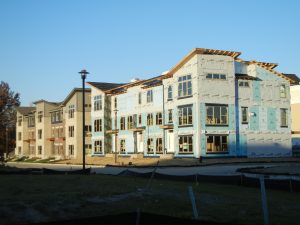 Twin Cities real estate pinchpoint: Few low-priced homes are being built
Lack of houses at less than $250K pinch first-time buyers and downsizers.
AP fileA "For Sale" sign hangs in front of an existing home.
Builders are putting up more houses than they have in a decade, but not the kind in most demand.
About 16 percent of the new houses in the Twin Cities metro this fall were priced less than $250,000, says a new report by Metrostudy, a national housing research firm. The rest were out of reach for the first-time buyers who are expected to drive the housing market in the coming year. A decade ago, 40 percent of new homes in the Twin Cities sold for less than $250,000.
This change is also straining the supply of existing houses and leaving first-time buyers and downsizing baby boomers with a shortage of options, regardless of whether they want to buy or build. In the Twin Cities metro, where property listings fell 20 percent last month, the least-expensive houses are now experiencing the biggest price gains.
"I'm not sure there's going to be relief any time soon," said Mark Gianopulos, regional director for Metrostudy.
A U.S. Census Bureau report last week showed that U.S. housing construction rose in September at the fastest rate since 1982, but the bulk of that construction was upscale houses and luxury apartments.
Builders and developers blame high land and labor costs and municipal fees on their inability to build less-expensive houses, but savvy builders are getting creative. They are rolling out more multi­level floor plans that take up less land, and because there's a clear correlation between the cost of the land and the price of a house, developers are on the hunt for developable land that's one or two steps beyond the areas that are more popular right now.
"People are struggling to build more affordable product and find locations that enable them to service the first-time buyers," said Mike DeVoe, division president for CalAtlantic Homes.
DeVoe said that in the coming year, CalAtlantic plans to cater to first-time buyers by launching 10 new communities where the houses will have a base price of less than $300,000.
Those offerings will include a modified two-story house that's on a slightly smaller lot and has a smaller footprint than what's typical. The company is also ramping up construction of its side-by-side attached townhouses. He anticipates that 42 percent of the houses it sells in the Twin Cities metro in the coming year will be in sub-$300,000 developments.
Montha Chum and her husband are both millennial first-time buyers who had been renting — and saving for a down payment — for several years.
Building a house was never in their plan, but it became an obvious choice after getting outbid on existing ones.
"We weren't even considering new construction," she said. "We thought it was only for rich people."
But after shopping several developers, they bought in CalAtlantic's Greystone subdivision in Rosemount, where prices start in the high $200,000s. Chum said that she and her husband, who have four kids and share the house with an elderly parent, were able to get a 3,000-square-foot house for about what they would have spent after fixing up a used house.
"In essence, everything is brand new and we got exactly what we wanted," she said.
To keep prices as low as possible, DeVoe and his land brokers have been focusing their development efforts on suburbs that are on the edge of the current development corridor, but still within prized school districts. One of the newest is in Waconia, where the company just opened its Stonegate community. It will have single-family houses with prices that start at $277,990 for a 1,300-square-foot house with three bedrooms, one bathroom and a three-car garage.
While that's still well above the $230,000 median sale price of an existing house in the Twin Cities metro, those prices are a fraction of what's typical. The average home price on the Builders Association of the Twin Cities Fall Parade of Homes this year was $619,404; only 21 houses on the tour were priced at less $300,000 and the least expensive was $189,950.
High prices have been a problem in the most favorable mortgage-rate environment in more than a generation, and the situation is expected to worsen in the face of recent spikes in rates, eroding affordability. Mortgage rates rose nearly a quarter percentage point during the past week.
Building more townhouses, duplexes and condominiums would solve the problem, but that hasn't happened. Attached houses like the ones CalAtlantic has started building in greater numbers tend to be smaller and take up less land than single-family houses, and therefore tend to be less expensive.
Metrostudy says that in 2005, attached housing represented 57 percent of all for-sale housing, mostly side-by-side suburban townhouses, built in the metro. Today, only 15 percent of the housing is attached.
"It doesn't make any sense to me," Gianopulos said. "This market was so saturated and it just went away."
Jonathan Smoke, chief economist for realtor.com, said the market is quickly shifting to first-time buyers. He cited a survey showing that the share of buyers who identified themselves as first-timers increased from 35 percent last year to 51 percent this fall. Until recently, those first-time buyers have been the missing link in the housing recovery.
"For us to be truly recovered and housing to be back to normal we need all parts to be thriving and healthy," he said. "It's good to see that progress is happening."