The Twin Cities real estate market has witnessed a fundamental shift over the past few years from a buyers to sellers market.  Inventory (i.e. the supply of homes) continues to remain very low which has resulted in price appreciation and few days on market.  In 2016 the median days on market was only 33 days, compared to 100 days in 2011.  Market time also happens be lower for entry-level homes (sub $250,000 price points) where fierce competition exists among buyers.  Because of the supply of homes for sale, many would be sellers who want to trade-up have remained on the side-lines given there are few homes to purchase.  Demand continues to outpace supply today with the tight inventory which means 2017 resale volume will remain in check.  Our advice to buyers…act fast if you find the right property!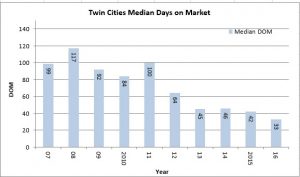 For Twin Cities home buyers this year, the thing that matters most is speed
Especially for entry-level homes, Twin Cities proves to be a sellers' market.
RENEE JONES SCHNEIDER, Star TribuneReal estate agent Dan Winters, right, chatted in the kitchen with his client, Dustin Corder, while viewing a home in Columbia Heights earlier this month.
For the past several weeks, Dustin Corder has been looking to buy his first house. He found several in Minneapolis that fit his needs, but several had sold by the time he could ­schedule a tour.
"If you see something you like, chances are someone else likes it too," he said.
For home shoppers in the Twin Cities these days, only one thing matters: speed.
Corder and thousands of other people are shopping in what is shaping up to be the tightest housing market on record.
In 2016, the median time that a house was on the market in the metro was a mere 33 days, according to the Minneapolis Area Association of Realtors, and that figure is likely to fall to just a month this year. By contrast, the median time a house was on the market from 2007 through 2016, a period that includes a downturn and recovery, was 124 days.
Across the metro, demand for entry-level houses is outpacing supply and homebuilders aren't able to fill the gap quickly enough.
That tight inventory is one reason the pace of home sales won't break any records this year. Across the U.S., home sales are only expected to rise 2 percent this year, below last year's pace of around 3.3 percent, according to the National Association of Realtors. In the Twin Cities, sales gains are expected to be slightly lower than 2016, though still stronger than in the nation as a whole. With more young adults entering the market, mortgage rates rising and the undersupply expected to continue, many shoppers will experience an even greater sense of urgency this year.
"I don't see anything that will change the trajectory of that trend right now," said Herb Tousley at the Shenehon Center for Real Estate at the University of St. Thomas. "We have deep demand chasing limited supply."
It's not all smiles for sellers, however. Because affordability is waning, price gains will be more moderate this year. CoreLogic estimates that from November 2016 to November 2017 home prices in the Twin Cities metro area will increase 5.8 percent, compared with a 4.7 percent gain nationwide.
And because first-time buyers are becoming a bigger portion of the demand base, the market has become increasingly stratified by price range. At the end of November, the strongest demand in the Twin Cities was for the least-expensive houses. Listings priced from $150,000 to $190,000, for example, would last just 1.4 months while there are enough houses priced at more than $1 ­million to last 14.1 months.
The market is considered balanced when there's a five-month supply of listings, and with homebuilders focused on building upper-bracket houses, there won't be any relief until owners of those starter houses decide that they're ready to sell.
"We are in uncharted territory in terms of understanding what's going to happen in this tight inventory situation," said Jonathan Smoke, chief economist for ­realtor.com.
The situation is putting agents and their clients into overdrive.
Matt Baker, a senior vice president for Coldwell Banker Burnet, said that agents used to talk about the 24-hour or sunset rule, meaning that they had to return messages by the end of the day. That's no longer the case.
"People really need to be on top of it," he said. "Now, we talk about the 15-minute rule."
Baker expects the spring market this year to start sooner and last longer than in previous years. He welcomes moderate price gains that are more sustainable than the double-digit increases that preceded the housing crash. Buyers and their agents will need to acclimate themselves to a "new normal that's faster and more compressed," he said.
He and others expect that as owners of those starter houses see their values rise, they'll trade up to a more expensive house.
Corder's agent, Dan Winters of the Helgeson/Platzke Real Estate Group at Coldwell Banker Burnet, had to resort to unusual tactics to drum up listings, including contacting the owners of expired and canceled listings to see if they want to take another crack at ­selling.
Winters, a millennial like Corder, said that young adults are aging into the next phase of their lives, including marriage and homeownership.
"Because we grew up with the internet, a lot of millennials are educating themselves about the real estate market and coming to understand that real estate, even with its ups and downs, tends to be a solid and safe investment," he said.
He noted that shoppers are using technology that can speed up the buying process. They know more information critical to a buying decision before seeing a property, and they're armed with up-to-the-minute data.
"Most first-time buyers are looking for the 'deal,' " Winters said. "They want the home that is move-in ready, great location, close to everything but for the least amount of money. Truth be told, that doesn't always exist."
After looking at nearly a dozen houses, Corder is now in his fourth week trying to thread the needle.
He rented an apartment for four years, then switched to a ­single room to save even more for a down payment. He's looking for a two-bedroom house in south or northeast Minneapolis with a fenced yard so he can get a dog. Hardwood floors would be nice, too, he says.
Like the thousands of other first-time buyers he's completing against, he's tired of paying rent and is racing to beat rising ­mortgage rates and prices.
"Once I felt secure enough in my job prospects and savings I decided that I would buy a house instead of renting another apartment," Corder said. "It was time."