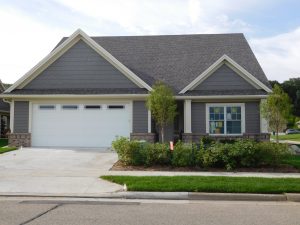 There is no question the home supply inventory is low across the Twin Cities, regardless of price point.  As of July 2017 the inventory of homes for sale in the Metro Area was only a 2.4 month supply – equilibrium is about 5 to 6 months.   Not surprisingly, the supply of homes is lowest for homes under $200,000; but still remains at only 4 months supply for homes prices above $300,000.
So what is to blame for the lack of inventory?  One consistence reason has been that baby boomers and older adults are staying in their homes longer.  This in in part because they do not feel they have good options for "right sizing" and do not want a higher mortgage or higher priced home than their existing home.  Because of few options for the 55+ demographic, there have been fewer homes on the market for younger buyers and first time buyers.  Many real estate professionals I have consulted with have said in the Wayzata School district that the inventory is so low in part because the original home buyers will not sell there home for lack of housing for their next lifestyle change.
Baby boomers keep tight hold on their homes
Jake Yanoviak is hunting for houses. On a weekday afternoon in North Philadelphia, the 23-year-old painter cruises along on his bike, its black paint obscured under stickers from breweries and rock bands. He turns onto a side street, where he spots a few elderly neighbors, standing on adjoining porches. He parks, leans on one handlebar and makes his pitch.
"Anybody on the block considering selling?" Yanoviak asks gently. "I'm not a developer, I'm not interested in renting to students. I'm just a kid trying to buy a house, fix it up and live in it."
"We're not going no place," replies a 70-something woman, relaxing in fuzzy white pig slippers in the row house where she's lived twice as long as Yanoviak has been alive. "All these houses are taken."
Like much of his generation, Yanoviak is desperate to get a piece of an increasingly scarce commodity: prime American real estate. Millennials are finding themselves out in the cold because building has slowed, and longer-living baby boomers are staying put, setting up a simmering conflict between the two biggest generations in U.S. history.
To succeed, buyers and real estate brokers must show uncommon persistence and, at times, diplomacy. Yanoviak has tried sheriff's sales, lost two bidding wars, ridden miles on potholed streets and left notes in mailboxes, all to no avail.
People 55 and older own 53 percent of U.S. owner-occupied houses, the biggest share since the government started collecting data in 1900, according to real estate website Trulia. That's up from 43 percent a decade ago. Those ages 18 to 34 possess just 11 percent. When they were that age, baby boomers had homes at almost twice that level.
Public policy contributes to the generational standoff. Property-tax exemptions for longtime residents keep older Americans from moving. Zoning rules make it harder to build affordable apartments attractive to senior citizens.
"The system is gridlocked," says Dowell Myers, a professor of urban planning and demography at the University of Southern California. "The seniors aren't turning over homes as fast as they used to, so there are very few existing homes coming online. To turn it over, they'll have to have a landing place."
In Lexington, Massachusetts, a Boston suburb, broker Dani Fleming offers pizza and refreshments to entice the mostly elderly homeowners to attend seller seminars on "how to unlock the potential of your home."
In Alameda, California, east of San Francisco, 38-year-old Angela Hockabout, her husband and their two children live with her 76-year-old mother-in-law, who is holding onto the home because the real estate taxes are so low. Under the almost-40-year-old ballot measure Proposition 13, they are tied to the property's value when the house was purchased in the 1970s.
Kale, tomatoes
In Omaha, Nebraska, Bill and Peg Swanson, a couple in their late 60s, say they might move if they could find affordable single-family homes aimed at seniors nearby. Still, like many from their generation, they like aging in place, tending their garden of green peppers, kale and tomatoes.
"There are a lot of reasons to stay here," Bill Swanson says. "We still enjoy putzing around the yard."
That kind of thinking ends up costing young home shoppers such as Yanoviak. After graduating from Carleton College in Minnesota with a degree in media studies, he now lives in West Philadelphia with his parents, an arborist and a director of a nonprofit. For a living, he does carpentry and helps paint movie sets. He's looking at homes costing as much as $200,000 and may rent out rooms to friends.
Yanoviak scouts property with Google Maps, Zillow and the city's property-record site. When he finds something, he calls his real estate agent, Cecile Steinriede, who checks it out. He also keeps an old-school sheaf of letters in the rear pocket of his pants, so he can hand them out or slip them in mailboxes.
"Dear Homeowner," they read. "I have been looking to buy a house for almost a year and have not found one."
Brewerytown
Yanoviak has his sights on a neighborhood called Brewerytown, a community of brick, masonry and vinyl row houses that range from tidy to decaying, with paint peeling, holes in roofs and weeds growing from cracks in sidewalks.
Along with inter-generational tension, Yanoviak's search raises delicate questions of race and class. He's white and college-educated, and he's often knocking on the doors of working-class black homeowners who see their homes as key to an affordable retirement and a way to pass wealth to future generations. (None would give their names.) Yanoviak acknowledges the awkwardness. It doesn't help, he says, when developers assault residents with insulting, low-ball cash offers.
"It's inevitable for me to be perceived as an outsider," Yanoviak says. "But I'm not trying to change the community. I'm trying to contribute in positive ways and be a neighbor."
Resentments fester in neighborhoods of all ethnicities. In a traditionally Italian section of South Philadelphia, which is now out of Yanoviak's price range, 70-year-old Nick Ingenito, sits on the front steps of the three-story brick house his grandmother's aunt bought in the early 1900s.
"Where do these young people get this money?" he says, looking out at the street where he played stick ball as a kid. "This neighborhood still has the soul of the past. Everybody I know — people older than me — wouldn't move from here for nothing unless they couldn't afford it no more."
On a recent Thursday evening after work, Yanoviak, wearing a black T-shirt, jeans and a brown belt emblazoned with the Schlitz logo, mounts his bike to make the housing round.
On one of his first stops, a black cat slinks under the wooden gate next to an abandoned house with bay windows that piqued Yanoviak's interest. Using his bike as a ladder, he stands on the seat and stretches his chin over barbed wire. All he can see are bed springs and junk.
Yanoviak starts cycling again, taking both hands off the handle bar to tap on his iPhone, noting the address of a property he might want to revisit.
Church properties
He stops to chat with the pastor of a church, which owns a handful of properties but isn't selling.
"No, we're holding out for God to do what he said he was going to do and that is to give us the block," the pastor tells Yanoviak.
Then, he sees a gray-haired man puttering in his garage.
"I'm looking at properties in the neighborhood, there isn't a whole lot on the market so I'm cold calling," Yanoviak says.
"Give me $2 million," the homeowner replies. "I don't want no low number."
It turns out the price is for the whole block. Even then, the potential seller has second thoughts.
"I wouldn't sell even if you gave me $2 million — this is my retirement," he says. "If you gave me a bag of money, I wouldn't sell."
After a few hours chatting with a half dozen owners and visiting eight properties, Yanoviak gets back on his bike, his pitch letters still hanging from the back pocket of his jeans. He heads back to his parents' house, deferring for yet another day his search for a home.